VRAI is true … it is an oneself building education environnement
>>> E.#.T : Exploration and Education-Enterprise-Economy Transform <<<

What ? 

          — A collaborative project-based workplace with horizontal interactions between all people, enterprises, associations, institutions, …
Who ? 

          — The « Campus des Métiers et Qualifications » (CMQ)
          — Institute of Technology (IUT) of Le Creusot
          — Université de Bourgogne
          — Communauté Creusot Montceau
          — Région Académique Bourgogne Franche Comté
          — Région Bourgogne Franche Comté
          — Numerous companies
How ?

          — involving the #ICI program and its extension into a professional license
          — inducing horizontal interactions between all partners
          — connecting people from the educational and socio-professional worlds
          — accommodating young people from bac-5 to bac + 5 to collaborate in part-time or full-time project mode
          — allowing young people to build themselves in project mode in an emulation environment
To do what ?

          — bringing the world of education and research closer to the professional world
          — leading to real transformations of collaboration practices
          — connecting all people, togehter to a sustainable world
          — for the benefit of young people and society through the evolution of education practices and projects of companies
Means ?

          — participation and/or grants of the partners
          — grant of the government (PIA 3 Campus des métiers : Territoires d'innovation pédagogique)
---
References (french documents)
Educational program #ICI
Bachelor (professional license) Smart Innovative Project
PEPS 2018 Award
Association E.#.T : Exploration and Education-Enterprise-Economy Transform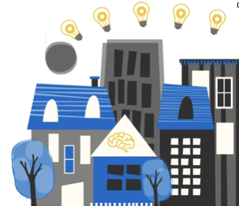 S. Freud: « Children are spontaneously philosophers: they ask for questions. »
His daughter Anna: « And adults? »
Freud: « They are spontaneously stupid, they respond to them. » 
E.-E. Schmitt starring Freud and his daughter: Le visiteur, Actes Sud, 2001